What Are the Best Places to SUP in Seattle?
Posted by Dunn Rite on May 25th 2021
When people think about Seattle, they usually think about Orcas Island, the Space Needle, and Fisherman's Wharf. Seattle is also known for its beautiful outdoors. Therefore, there are lots of people who love to go stand-up paddleboarding in the local area. If you are thinking about going stand-up paddleboarding in Seattle, what are some top places you should have on your list? Take a look at a few choices below.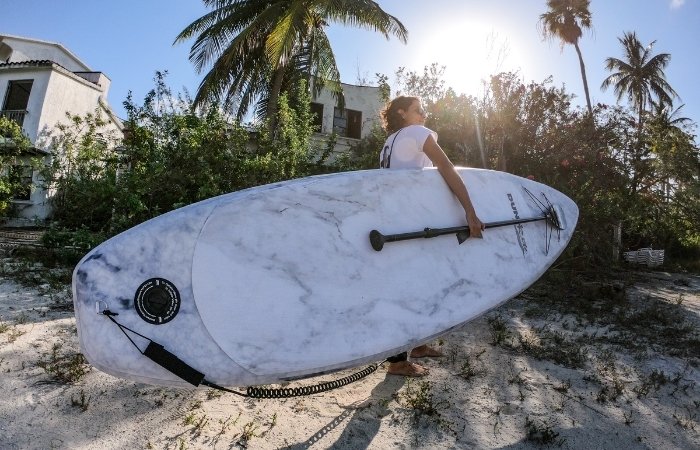 SUP Seattle's Moss Bay
One of the first places you should go if you are stand-up paddleboarding in Seattle is Moss Bay. Moss Bay is an excellent place for residents and visitors alike. The water is calm, making it a great place for SUP beginners. Once you have mastered the basics, you can venture out to rougher waters. Even though most people bring their own equipment, there is also a spot for you to rent SUPs at Moss Bay. When you get tired, pull off the side and relax at the beach. This is a great place to watch the sunset as well.
Discovery Park Seattle Largest City Park
Discovery Park is relatively close to the action. This is the largest city park in all of Seattle. It is entirely surrounded by water. The best place to launch from is the West Point Lighthouse. If you have your own inflatable SUP, then you may want to get off the beaten track a bit. There are some hidden beaches if you are willing to explore. Perhaps you can SUP all the way to Point Shilshole for an amazing adventure!
SUP Seattle Lake Union
Without a doubt, Lake Union is one of the most popular spots in Seattle to SUP. This is an outstanding place to meet up with family members and friends if you are trying to get out on the water with your stand-up paddleboard this summer. Furthermore, even if you are on a solo SUP adventure, it's fun to make new friends with a common interest who are stand-up paddleboarding on Lake Union as well. Even though it can get crowded from time to time, the views of Seattle from the lake are absolutely breathtaking. Therefore, make sure you bring a camera with you. That way, you can snap a few photos of the beautiful scenery. If you are looking for a meal after your trip, be sure to check out Ivar's Seafood House and order the clam chowder!
Shilshole Bay and the Golden Gardens For SUP Camping
This is a beautiful spot with something for everyone. There are plenty of beaches that are a great place to take a break. You can even spend the night here if you want to pitch a tent; SUP camping takes your paddleboarding adventure up a notch! There is a beautiful mountain backdrop that makes for some incredible photos. As you go out stand-up paddleboarding, be sure to take a look underneath the surface of the water. There are plenty of plants and animals that live just beneath the surface.
SUP The Ship Canal at Fremont and the U-District in Seattle
Last, but certainly not least in our Seattle SUP roundup, check out the Ship Canal at Fremont and the U-District. This spot is located in between Lake Union in Puget Sound. This is a relatively hidden location to go stand-up paddleboarding. Because the water is a bit rougher, this is good for intermediate and advanced athletes when it comes to stand-up paddleboarding. If you are looking for the best place to push off, you may want to check out S3 Maritime or the Fisherman's Terminal. Pause here for a second, and be sure to take in the sights. You should stay out of the middle of the waters, as this is where boats tend to hang out. Even a nearby wake can cause you to tip over. If you stick to the sides, you will be able to take in some incredible city views. Just remember that the water is a bit chilly!
Check Out the Selection of Inflatable SUPs!
If you want to get the most out of your stand-up paddleboarding trip in Seattle, then the right equipment is a top priority. That means investing in a solid inflatable stand-up paddleboard. Dunn Rite has several inflatable SUPs from which to choose. You can pick the perfect size, style, and color scheme for you. For example, one of our favorites is the new white marble inflatable SUP! With the best inflatable SUP, you can take advantage of everything Seattle has to offer by way of the water. Check out the selection of inflatable SUPs from Dunn Rite today, and get ready for your stand-up paddleboarding in Seattle!
Dunn-Rite Pool Products and Inflatable Paddle Boards
3rd Generation Family Owned Company with a long history of developing innovative products of the highest quality.
Inflatable Paddle Boards - Combo Units - Pool Volleyball - Pool Basketball