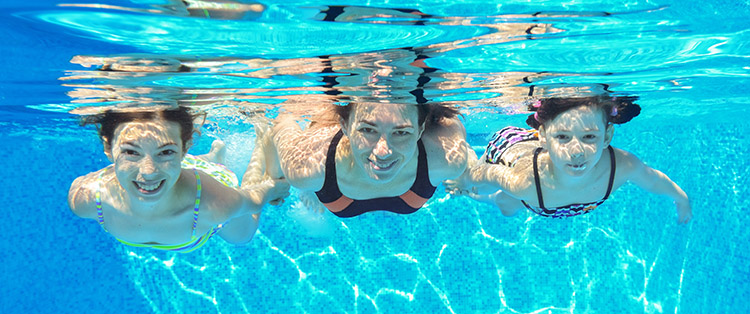 It's summer and it's time to get out and enjoy the sunshine. If you have a pool, you're in a select group of lucky individuals who don't even have to leave their homes in order to have a blast.
Pools are a great way to get family and friends together for some fun in the sun. Even when it's hot and humid, a pool offers the perfect way to be active without being overheated.
And it's a good thing you've got a built-in source of entertainment right in your own backyard. In our world of hustle and bustle, there's a growing trend to take a summer vacation — at home.
Whimsically named "staycations," this trend underscores that today's families want simpler fun and leisure activities that don't cost a lot of money and don't require the hectic pace of airline and car travel.
So there are the stay-cationers, but what's even more interesting is that more and more Americans seem to be opting for no vacations at all, with 43% of Americans claiming they won't take vacation at all this summer.
But don't worry. If you have a pool, "no vacation" doesn't necessarily mean "no fun."
Because you're lucky enough to have a staple of summer fun, you'll be able to fill your evenings and weekends with a whole slew of activities that are fun for the whole family.
And just to show you what we mean, we've compiled a list of some of the best activities for pool-time entertainment.
Water Basketball — A Great Way to Get Fun and Fit
Water basketball is one of the most exciting pool sports and one that can engage the whole family, from small to tall.
The game has a long history of providing a watery challenge for aficionados.
Created to be a combination of basketball and water polo, water basketball is the ultimate family-friendly competitive water sport.
In general, it involves five-player teams who each shoot a regulation pool basketball into a goal once their team has gained possession of the ball.
While it's played in family pools all over the nation, water basketball has also found a following in semi-professional leagues all over the world.
For example, Tasmania saw their first demonstration game in 2003 when teams consisting of players from the Hobart Chargers and the Hobart Hurricanes, plus football players from the Tassie Devils and cricketers from the Tassie Tigers got together at the Hobart Aquatic Center.
The Aquatic Center, seeing how many people were interested in the game, developed an approach to the game for non-professional teams by adding a player to each team and requiring three players on teams to be women.
The Italians are also onboard with the game, declaring it a form of basketball in 2005, and it's been played in the Netherlands since the 1970s, where it's known as waterbasketbal.
It's so popular there that they've implemented a national championship in addition to regular tournaments, where the finest teams vie for the title of Dutch National Champion.
Variations of the game were developed in Slovenia, where a floating basket was introduced. While this adds some difficulty to the game, in the home pool a floating basket can be just right for smaller children.
Finally, two players from Slovenia created a basket specifically for pool basketball that featured a pole that extends into the water with a basket that's hung over the water level by one meter. This allows the game to played behind the basket, which added to the competitiveness and excitement.
Bringing Water Basketball to Your Pool This Summer
At Dunn-Rite, we manufacture high-quality pool basketball equipment that can bring this fun, dynamic sport to your very own backyard.
You can choose from our AquaHoop floating basket to make it easier for small children or one of our many fine equipment sets.
Our products are made with strong, corrosion-resistant materials for protection against saltwater and chlorine environments as well as protection against UV rays.
This attention to quality means you'll be able to enjoy your pool basketball equipment for years to come.
To play the game at home, you can any follow any variation of the standard rules, or even create your own game.
Generally, people tend to follow the same rules for violations, which include:
No pushing off of the side of the pool.
No submerging the ball to keep it from the other players.
No off-balancing other players.
Free throws and 3-point shots are disallowed.
Goal tending just means a point for the other team.
The pool edges serve as boundaries and the ball is "out" beyond them.
If a player forces a ball out, the other team gets the point.
Any of the above actions results in a foul.
Really, it's your pool and your game. The sky's the limit for creativity and fun!
Other Great Water Games to Entertain and Delight
There are more games than just pool basketball on the agenda this summer.
With just a few basic pieces of equipment, you can turn your pool area into a fun and fabulous destination for friends, family, and neighbors.
1. Water Volleyball (Pool Volleyball)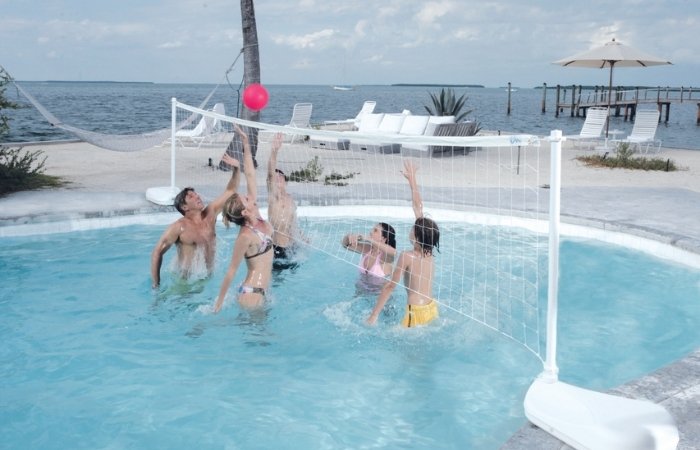 Another exciting game for home pools, pool volleyball offers a way to get the whole family in on the action.
With two teams of one to four people depending on the size of the pool, this fast-moving game can easily accommodate even the youngest players.
Smaller or shorter players can occupy the shallower section of the pool, while older or taller players can move into the deeper water.
The rules are simple — don't let the ball touch the water or go out of the pool onto the decking or grass. Most people play to 11, 15, or 25 points and a team must have a two-point lead to win the game.
You don't need much equipment to get a good game going — Dunn-Rite provides everything you need in the same high-quality materials you've come to expect from them.
You can choose from a set where the net is mounted into poles in your pool deck or where the net extends from weighted bases that sit on top of your deck's surface.
Like all Dunn-Rite pool equipment, their volleyball sets are made from heavy-duty materials of the highest quality to stand up to rigorous play, pool conditions, and the harsh rays of the sun.
2. Covered or "Blind" Volleyball
Want to find another great game to play with your pool volleyball equipment?
Covered volleyball is a simple way to spice up your pool ball game without spending a lot of money or taking time out to set up extra equipment.
Covered volleyball involves hanging sheets or towels over the volleyball net so that you can't see the positions and movements of the opposing team.
This means you'll never know where the ball is coming from, so you'll have to be on your toes. Any number of players can play, making this ideal for large group settings.
Like any volleyball game, the points are scored when the ball hits the surface of the water or the pool deck. Follow the usual volleyball scoring rules and game play.
It's the element of surprise that makes this game loads of fun, so don't worry about not being able to see the action.
It will be easy to hear the splash of a water landing, the thunk of the ball against the pool deck, or the groans of the opposing team when they lose a point!
3. Watermelon Ball
Another great way to get extra use from your water basketball and water volleyball equipment is to join in a rousing game of watermelon ball.
Watermelon ball comprises a series of games that can be played similar to pool basketball, volleyball, and water polo, but using a special ball that's filled with water.
Because it's water-filled, the ball feels like a watermelon and can be used underwater for dribbling, passing, and even kicking.
It's a great way to change up your basketball or volleyball game and it also helps reduce the number of times you have to get out of the pool to retrieve an errant ball.
In addition to that, the watermelon ball requires a bit more effort to move it around, making it an ideal way to work a little fitness into your summer fun.
4. Night Ball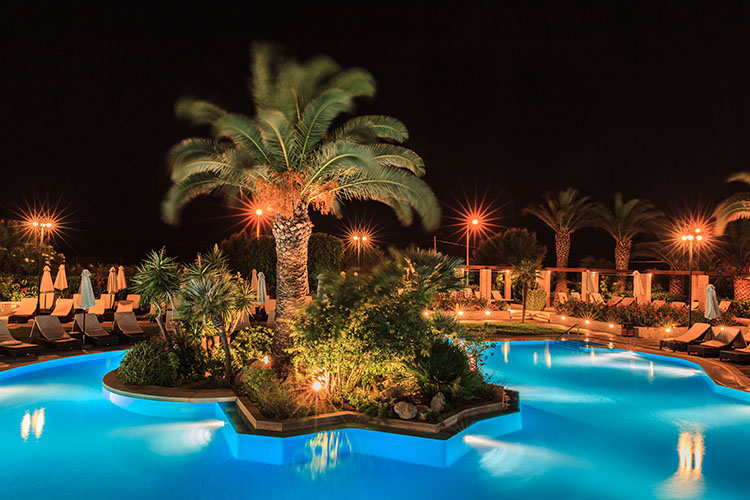 It seems like the simplest of switch-ups but playing pool basketball or volleyball with a bit of glow-in-the-dark equipment can add interest and entertainment to your game play.
You can suit your team up with glow-in-the-dark T-shirts to wear over their bathing suits, get a glow-in-the-dark ball, or even substitute a glow-in-the-dark basketball net for the one that came with your hoop.
Most of these glow-in-the-dark items are not chlorine, UV ray, or saltwater-resistant, so you'll need to remove them at the end of gameplay and replace them with your original, pool-quality equipment.
This game is perfect for those who don't like to get a lot of sun, or for times when you can't make it poolside until the sun's gone down.
Young and old alike enjoy the excitement of playing a game under the stars, and the glow-in-the-dark touches just add to the experience.
5. Bucket Ball
If you're lucky enough to have a Dunn-Rite AquaHoop floating basketball hoop, you have all you need to play a game of bucket ball.
It's best to have multiple floating hoops for more challenging game play, but even one will do. First, get ahold of some floating bean bags or floating hacky sacks.
Your aim is for your team to get as many bean bags or hacky sacks into the floating hoop as possible, taking turns from one team to the next.
If you have more than one hoop, both teams can play at the same time or you can position the hoops at different places in the pool.
If you have hoops at different places, team members can score more points for making the more challenging shot.
This game lends itself to all kinds of iterations. You can use different floating items to score baskets, have a team member move the basket while someone takes a shot, or have everyone jump around to cause the motion of the water to move the baskets.
There's no end to the number of games your friends and family can invent using these simple pieces of equipment.
Supercharge Your Summer with Pool Games for Everyone!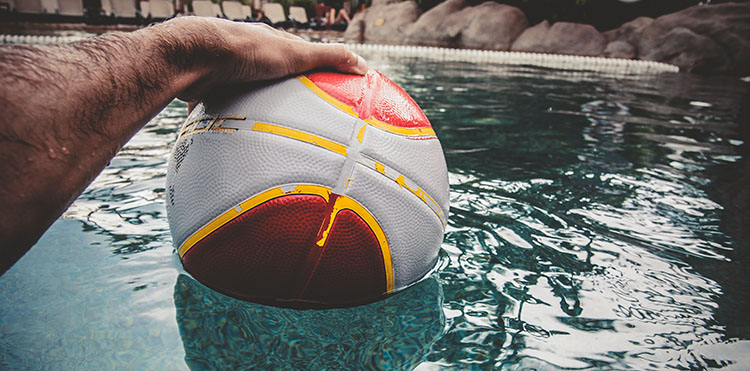 It's no surprise that yours is the house everyone wants to hang at — you've got a pool!
And now with just a few pieces of equipment you've got a whole arsenal of exciting, challenging, and downright fun pool games to entertain all your family and friends.
Dunn-Rite makes pool fun easy with their large selection of well-made, sturdy pool basketball and pool volleyball equipment.
With lots of different choices to match your lifestyle, your pool set-up, and your family's needs, you're bound to find the right set of equipment that will take your backyard pool from average to a summer destination.
Better stock up on sodas, snacks, and burgers because there's going to be a lot of people in your backyard this year!