Top 3 Best Portable Pool Volleyball Units
Posted by Dunn Rite on Aug 22nd 2023
If you're a pool owner looking to add an extra dose of excitement and friendly competition to your swimming experience, a pool volleyball unit is a fantastic addition. Dunn-Rite Products, a trusted name in pool sports and accessories, offers a range of top-quality pool volleyball units designed to enhance your poolside fun. If you're like most pool owners who don't necessarily want to mount the net poles into the ground surrounding your pool, then it's time to consider the portable version of pool volleyball.
The Best Portable Pool Volleyball Units
In this blog post, we will introduce you to three of their must-have portable pool volleyball units: the SlamVolly, the WaterVolly, and the Stainless WaterVolly. Get ready to elevate your pool parties and create unforgettable memories!
SlamVolly - Competitive Portable Pool Volleyball
The SlamVolly pool volleyball unit from Dunn-Rite Products is a popular choice among pool owners who seek durability, versatility, and high performance. With its sturdy construction and user-friendly features, this unit guarantees hours of fun and competitive gameplay.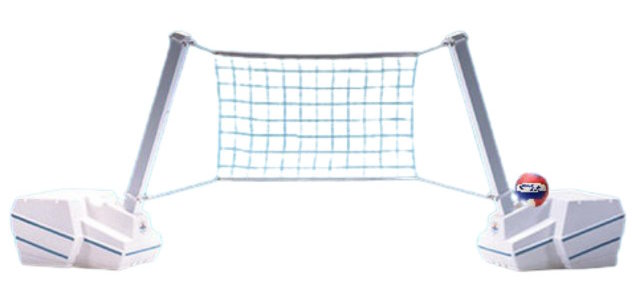 Key Features:
Sturdy Design: The SlamVolly is built to withstand the rigors of intense volleyball games, thanks to its rugged materials and robust construction.
Adjustable Height: This unit offers an adjustable net height, allowing players of all ages and skill levels to enjoy the game comfortably.
Quick and Easy Installation: The SlamVolly can be easily set up and secured on your pool deck using the included mounting hardware. Its portable nature also allows for convenient removal and storage when needed.
Premium Net: The unit comes with a high-quality, durable net that can withstand prolonged exposure to water and weather conditions. The net is designed to provide optimal tension, ensuring a satisfying bounce for the volleyball.
WaterVolly - Versatile Portable Pool Volleyball
The WaterVolly pool volleyball unit by Dunn-Rite Products is a versatile and affordable option that delivers both fun and durability. Designed with convenience in mind, this unit is perfect for pool owners who want to enjoy a game of volleyball without permanent installation.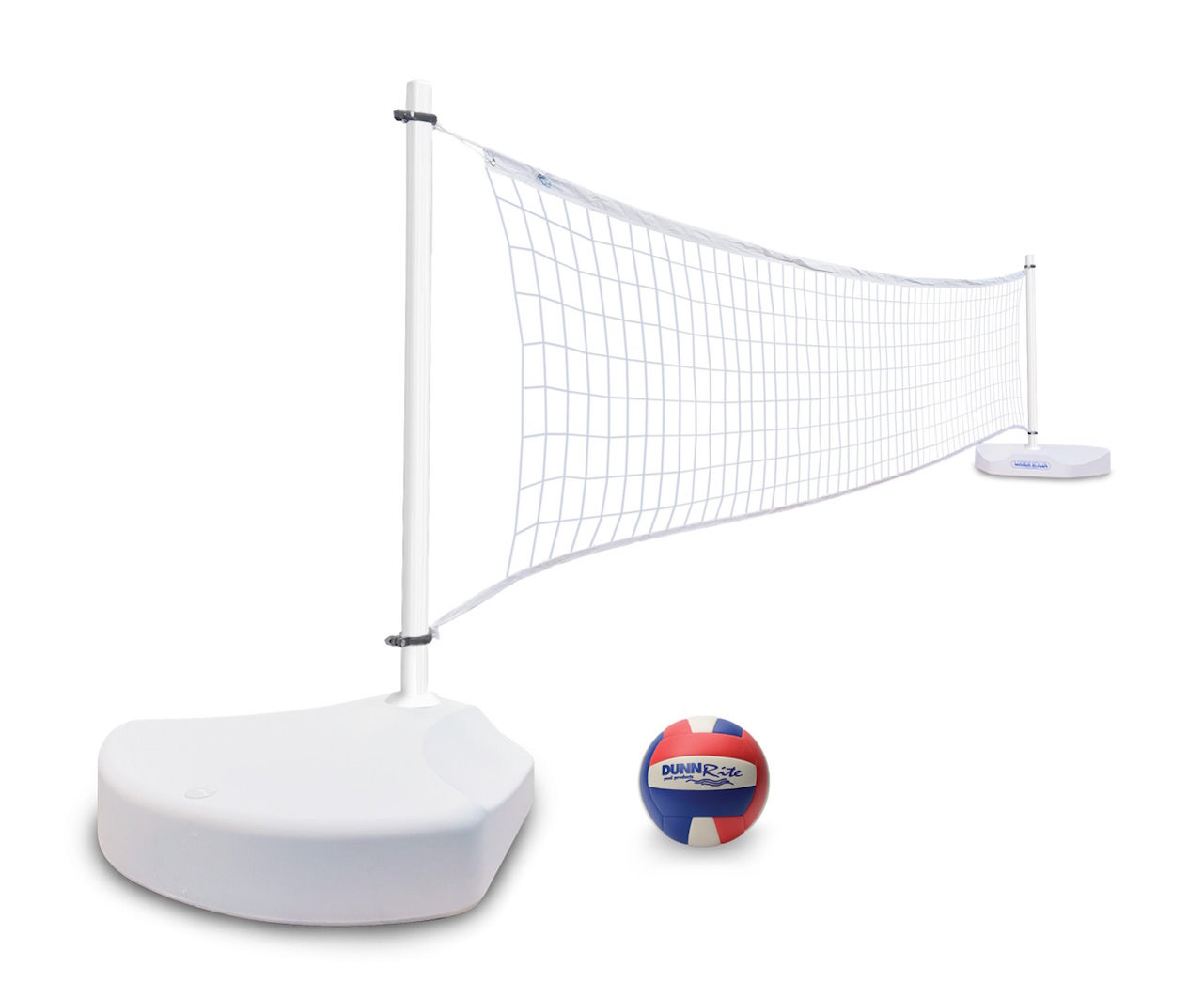 Key Features:
Portable Design: The WaterVolly is a freestanding unit that doesn't require any permanent installation. It can be easily placed on your pool deck or in the water, making it suitable for pools of various sizes and configurations.
Quick Setup: This unit can be assembled in minutes without the need for tools or additional equipment. Simply fill the base with water or sand for stability, and you're ready to start playing.
Adjustable Net Tension: The WaterVolly features an adjustable net tension system, allowing you to customize the net's tightness according to your preferences and gameplay requirements.
Durable Materials: Constructed with high-quality materials, the WaterVolly is built to withstand the elements and provide long-lasting enjoyment.
Stainless WaterVolly - Durable Portable Pool Volleyball
For pool owners seeking a premium pool volleyball unit with exceptional durability and a sleek appearance, the Stainless WaterVolly from Dunn-Rite Products is an ideal choice. This unit combines strength, style, and ease of use to create an outstanding poolside experience.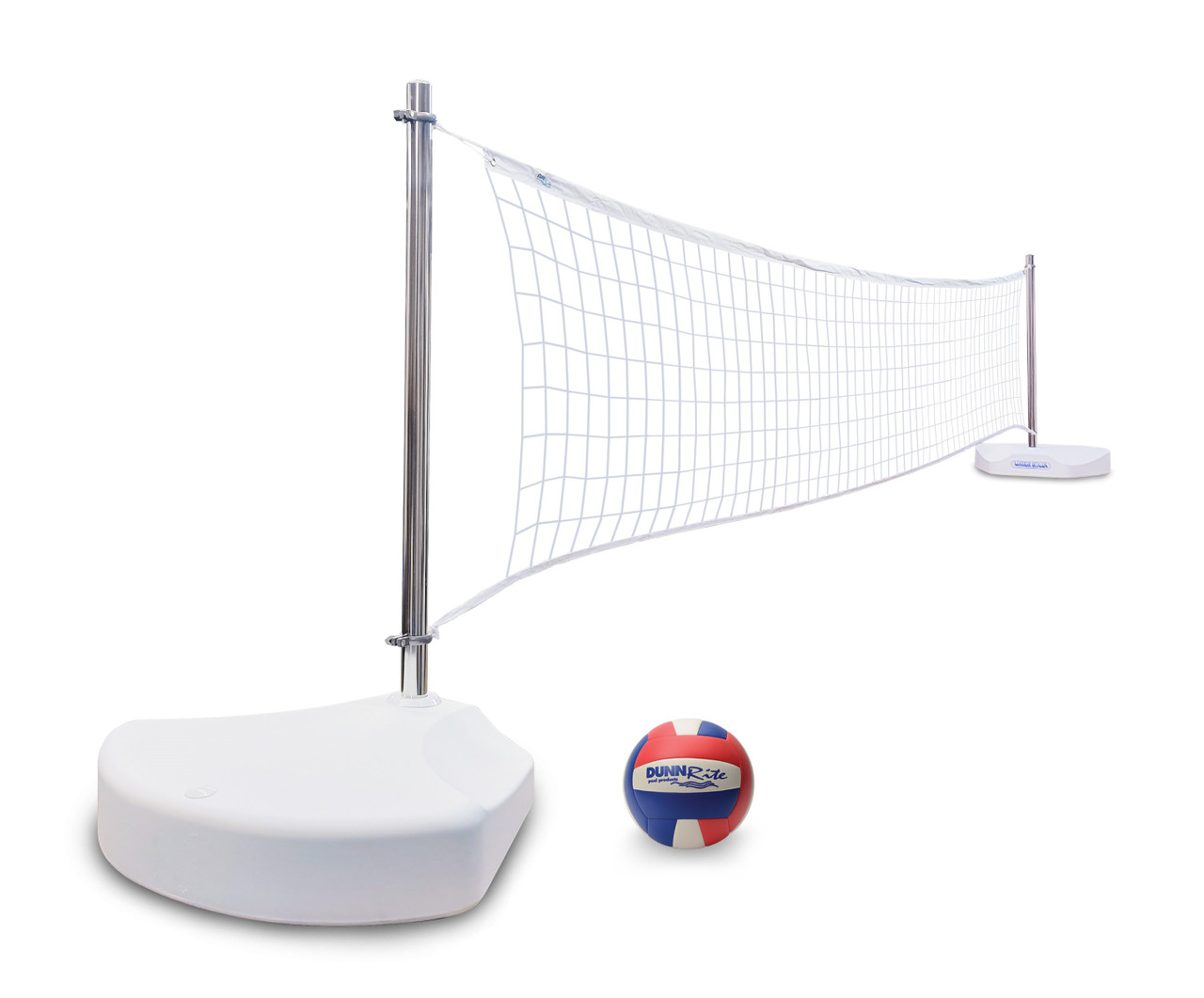 Key Features:
Stainless Steel Construction: The Stainless WaterVolly is built with high-grade stainless steel hardware, ensuring exceptional strength, rust resistance, and longevity.
Polished and Stylish Design: The unit features a polished stainless steel finish, adding a touch of elegance to your pool area. It seamlessly blends with any poolside decor, elevating the overall aesthetic appeal.
Adjustable Height and Net Tension: The Stainless WaterVolly offers adjustable net height and tension options, allowing you to customize the game to suit players of different ages and skill levels.
Easy Installation: With its quick and straightforward installation process, the Stainless WaterVolly can be set up in no time. The unit can be anchored into the deck or positioned in the water, providing stability during spirited volleyball matches.
Shop Dunn-Rite Products for Inground & Portable Pool Volleyball
Dunn-Rite Products provides an excellent selection of pool volleyball units to cater to the diverse needs of pool owners. Whether you opt for the durability and versatility of the SlamVolly, the convenience of the WaterVolly, or the premium construction and style of the Stainless WaterVolly, you're sure to experience hours of fun, active play, and friendly competition in your pool. Choose one of these top pool volleyball units and take your poolside entertainment to a whole new level.
Dunn-Rite Pool Products & Pool Accessories
3rd Generation Family Owned Company with a long history of developing innovative products of the highest quality.
Pool Fountains - Combo Units - Pool Volleyball - Pool Basketball