Top 3 Best Pool Basketball Units for Inground Pools
Posted by Dunn Rite on Aug 22nd 2023
When it comes to enjoying your pool to the fullest, having the right pool basketball unit can take your water-based fun to new heights. Dunn-Rite Products, a renowned name in pool sports and accessories, offers an impressive lineup of pool basketball units designed to elevate your poolside experience.
Best Pool Basketball for Inground Pools
In this blog post, we'll explore three of their top pool basketball units: the Splash & Slam Clear, the Deck Shoot Clear, and the Regulation Clear Hoop. Whether you're searching for the perfect inground pool basketball or portable unit, we've listed the top-rated bestsellers below.
Splash & Slam Clear - Portable Pool Basketball
The Splash & Slam Clear pool basketball unit from Dunn-Rite Products is a perfect blend of durability, versatility, and visual appeal. This high-quality unit is designed to withstand the rigors of intense pool basketball games while giving you the option of storing it away whenever you're finished playing.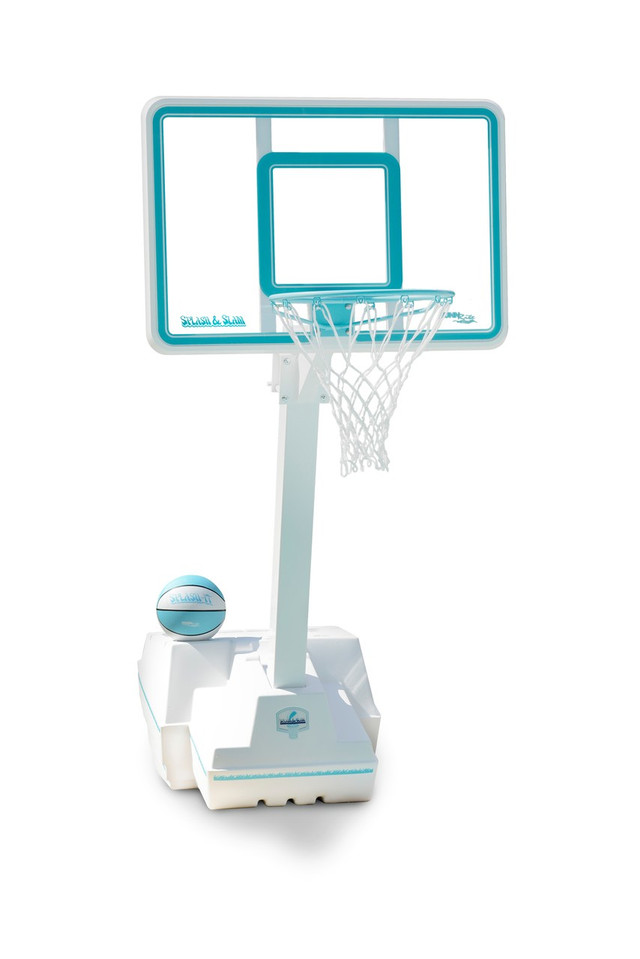 Key Features:
Clear Acrylic Backboard: The Splash & Slam Clear features a clear acrylic backboard that enhances visibility and adds a sleek, modern aesthetic to your pool. The clear design also allows for better integration with the surrounding environment.
Stainless Steel Hardware: Built with stainless steel hardware, this unit is resistant to rust and corrosion, ensuring long-lasting performance even in wet and humid conditions.
Adjustable Height: The hoop's height can be easily adjusted to accommodate players of different ages and skill levels, making it suitable for both kids and adults.
Easy Installation: With its quick and straightforward installation process, you'll have the Splash & Slam Clear set up and ready for action in no time.
Deck Shoot Clear - Inground Pool Basketball
If you're looking for a pool basketball unit that combines simplicity, durability, and affordability, the Deck Shoot Clear by Dunn-Rite Products is an excellent choice. This compact and versatile unit is designed to be installed on your pool deck, offering a convenient and space-saving solution.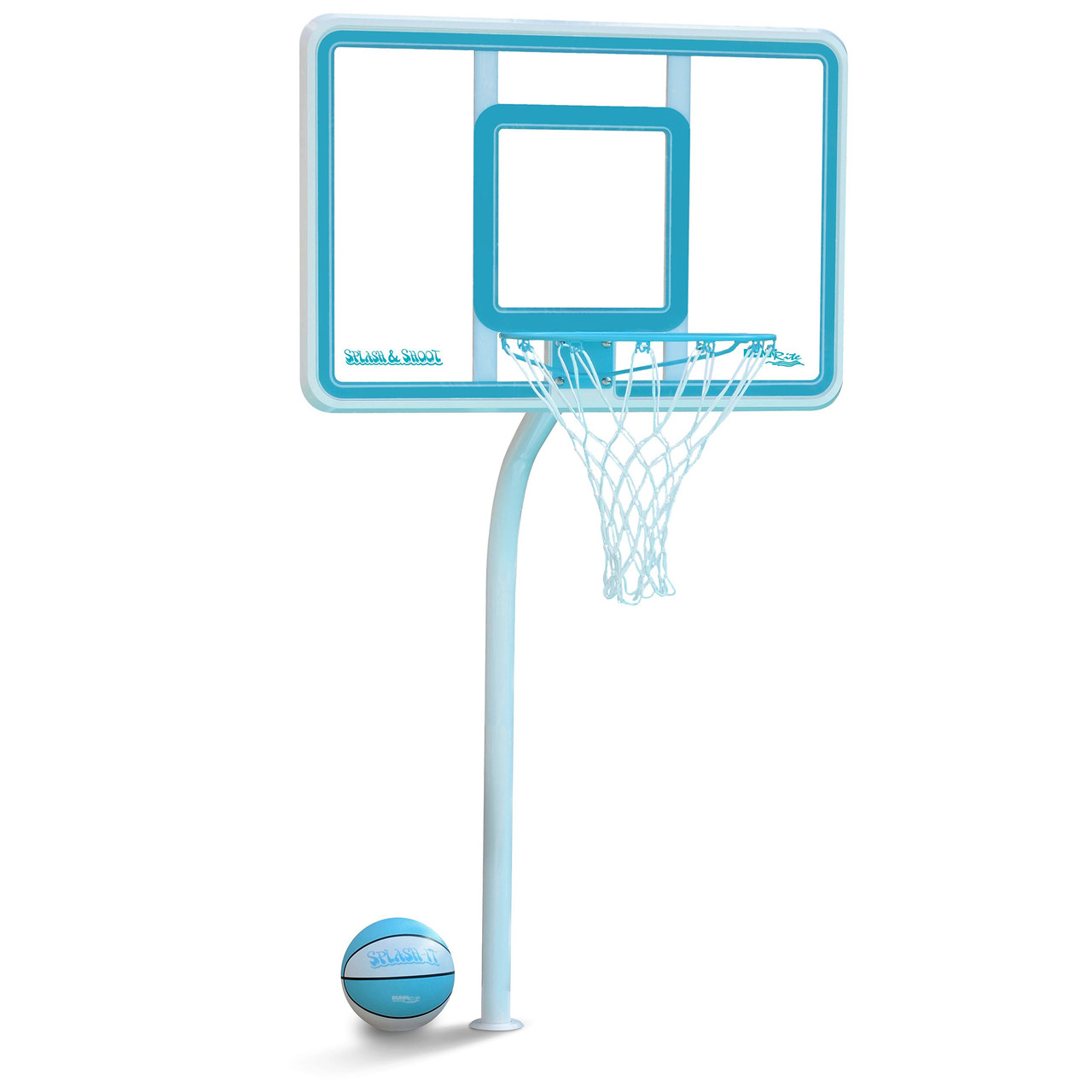 Key Features:
Clear Polycarbonate Backboard: The Deck Shoot Clear features a clear polycarbonate backboard that provides excellent durability and visibility, allowing you to focus on the game without obstruction.
Compact Design: With its space-saving design, this unit is ideal for pools with limited deck space. It can be easily mounted on the side of your pool deck, allowing you to enjoy exciting basketball games without sacrificing valuable pool area.
Weather-Resistant Materials: The Deck Shoot Clear is crafted with weather-resistant materials, ensuring its longevity even when exposed to sun, rain, and pool chemicals.
Easy Assembly: The unit comes with clear and concise instructions, making assembly a breeze. Within a short time, you'll have the Deck Shoot Clear ready to create hours of fun for you and your family.
Regulation Clear Hoop - Inground Pool Basketball
For serious pool basketball enthusiasts who crave an authentic playing experience, the Regulation Clear Hoop from Dunn-Rite Products is the ultimate choice. This professional-grade unit meets official regulations and offers a premium playing experience right in your own backyard.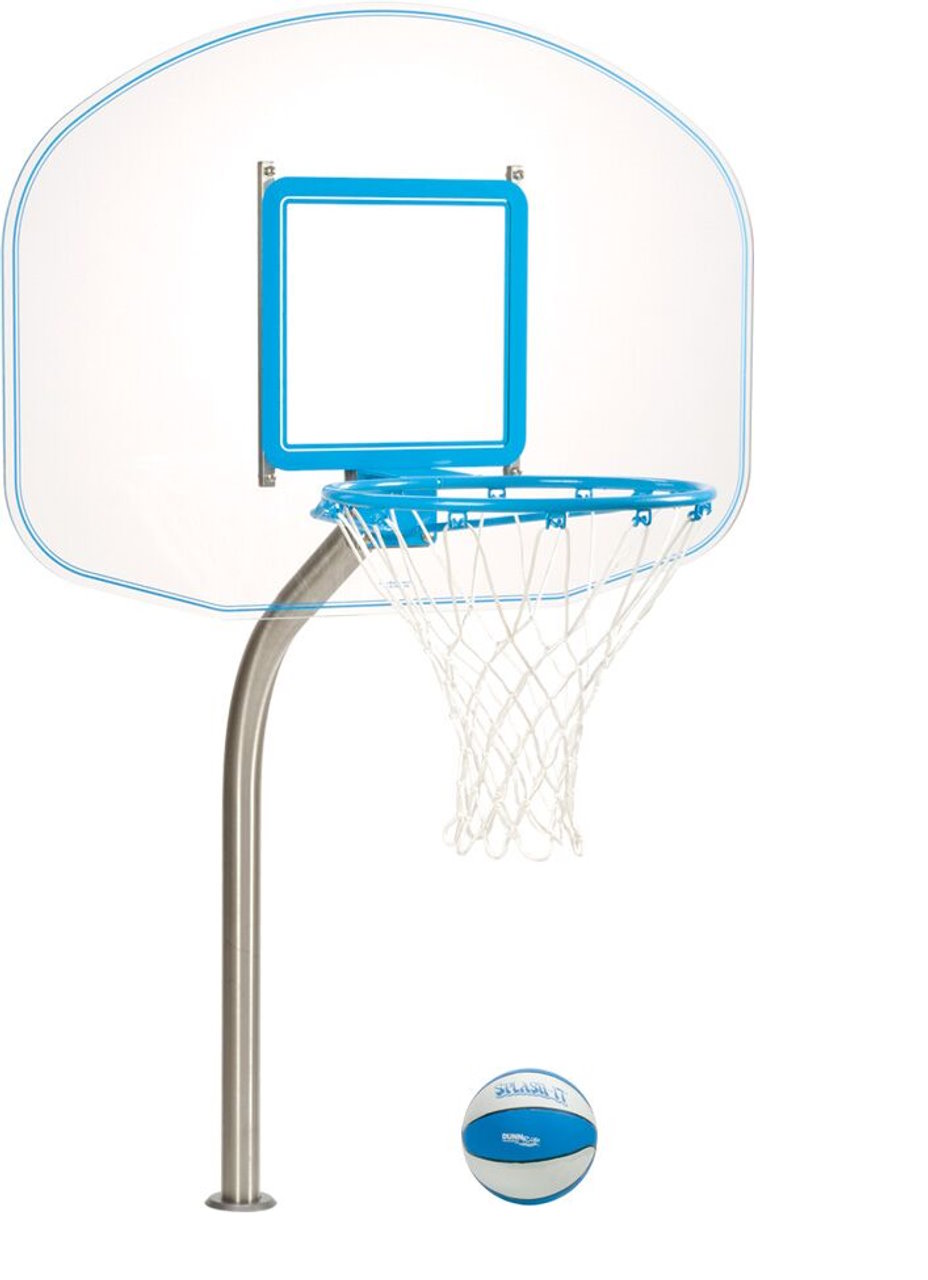 Key Features:
Regulation Size and Design: The Regulation Clear Hoop is designed to meet official pool basketball regulations, providing an authentic feel similar to professional courts.
Tempered Glass Backboard: The hoop boasts a sturdy tempered glass backboard, known for its excellent rebound quality and durability. This ensures an optimal playing experience, even during intense games.
Pro-Style Breakaway Rim: The breakaway rim provides added safety and allows for dynamic slam dunks without the risk of damage to the hoop or backboard.
Heavy-Duty Construction: With its robust build and heavy-duty materials, the Regulation Clear Hoop is built to withstand rigorous gameplay, ensuring years of enjoyment.
Shop Dunn-Rite Products for A Diverse Range of Pool Products
When it comes to pool basketball units, Dunn-Rite Products offers a diverse range of options to suit every pool owner's needs. Whether you're looking for a stylish and elegant unit like the Splash & Slam Clear, a space-saving solution like the Deck Shoot Clear, or a professional-grade experience with the Regulation Clear Hoop, Dunn-Rite Products has you covered. Invest in one of these top pool basketball units and get ready to make a splash of fun and excitement in your pool area.
Dunn-Rite Pool Products & Pool Accessories
3rd Generation Family Owned Company with a long history of developing innovative products of the highest quality.
Pool Fountains - Combo Units - Pool Volleyball - Pool Basketball