The Top 8 Pool Accessories for Adults
Posted by Dunn Rite on Mar 6th 2023
If you're looking for the best-selling pool accessories specifically for adults and youth, not typically children, then you've come to the right place! We've created a list of the top sellers used for inground pools, including everything from pool volleyball to pool stools.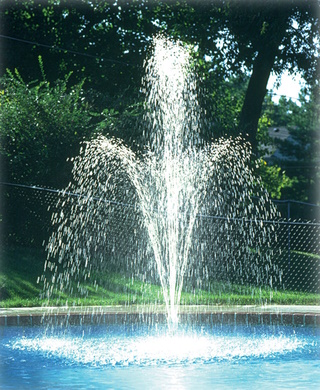 The Top 8 Pool Accessories for Adults
After looking over our list you'll know all the pool accessories needed to have a good time in your inground pool. Whether it's enjoying the heat outside or throwing a pool party, we've got you covered! Here are the top 8 pool accessories for adult to get for 2023:
Pool Stools
So you're probably thinking "what is a pool stool and why do I want one?" There are plenty of reasons to get a pool stool including optional and removable seating for in the pool, not just around it. When the sun's beating down on you the best seating in the whole pool is right on a pool stool. This innovation pool accessories can accommodate adults and youth no problem, and they even work in above ground pool with rubber bumpers that won't damage your lining!
Pool Fountains
What better way to set the tone than to add a breathtaking pool fountain to the mix? Available in many shapes and sizes, we offer the best and most attractive pool fountains on the market! Not only do they naturally filter your pool water by continuously moving, but it also gives your pool area a new look and ambiance.
Foam Noodles
Of course everyone's familiar with a pool noodle and what they do, but they've proven to be just as fun for adults as they are for kids. So why not channel your inner children, grab a couple noodles and lounge in the sun. They're especially inexpensive and last a long time.
Floaties
The traditional pool floatie has been around for decades, however, new designs, shapes, and features have taken over this industry by storm! You can find any kind of pool floaties nowadays with drink holders and shades to make sitting in the pool a little more comfortable.
Diving Rings or Sticks
A common practice used by swimming professionals, diving rings or sticks are used in pools for almost anyone who wants to have a little competition or work on their skills. You can even race to the bottom of the pool with your friend to see who can grab them first. Another pool accessory that's not just for kids.
Pool Volleyball
Pool volleyball is a great way to spend the day with friends and family in the pool. Who doesn't like a good competitive sport? If you're really trying to get your pool party going this would be the way to go, plus some fun music, food, and drinks never hurt.
Pool Basketball
If we're going to mention pool volleyball we have to throw in pool basketball as another classic water sport that most people enjoy. Get your game on and play with your friends on a hot day, soaking up rays while shooting some hoops is always an enjoyable time.
Pool Basketball & Pool Volleyball Combo Unit
An ultimate fun time guaranteed, a pool basketball and pool volleyball combined unit is the best way to spend the day in your pool. More specifically, the Splash n Slam unit by Dunn-Rite offers the best of both worlds and the the most thrilling time ever during pool time.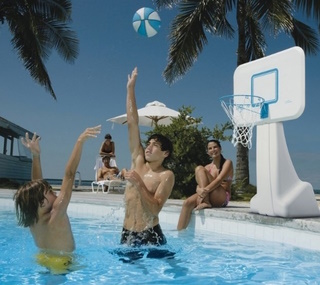 Where to Find Pool Accessories for Adults
So now you know the best sellers in pool accessories for adults, but where are you supposed to find some of these items? Lucky for you Dunn-Rite offers pool fountains, pool volleyball, and pool basketball right at your fingertips. You can purchase any of the pool accessories mentioned only if you're looking to have a fun time in your pool this season.
Dunn-Rite Pool Products & Pool Accessories
3rd Generation Family Owned Company with a long history of developing innovative products of the highest quality.
Pool Fountains - Combo Units - Pool Volleyball - Pool Basketball