Posted by Dunn Rite Products on May 2nd 2019
Nobody enjoys a poor sport. You know... that 'guy' who hangs out indoors by his television set, every day of the year and complains to his friends that he is bored. This summer, take the bull by the horns and get out there with your family and enjoy your pool with Dunn Rite Pool Products, which includes basketball and volleyball sets.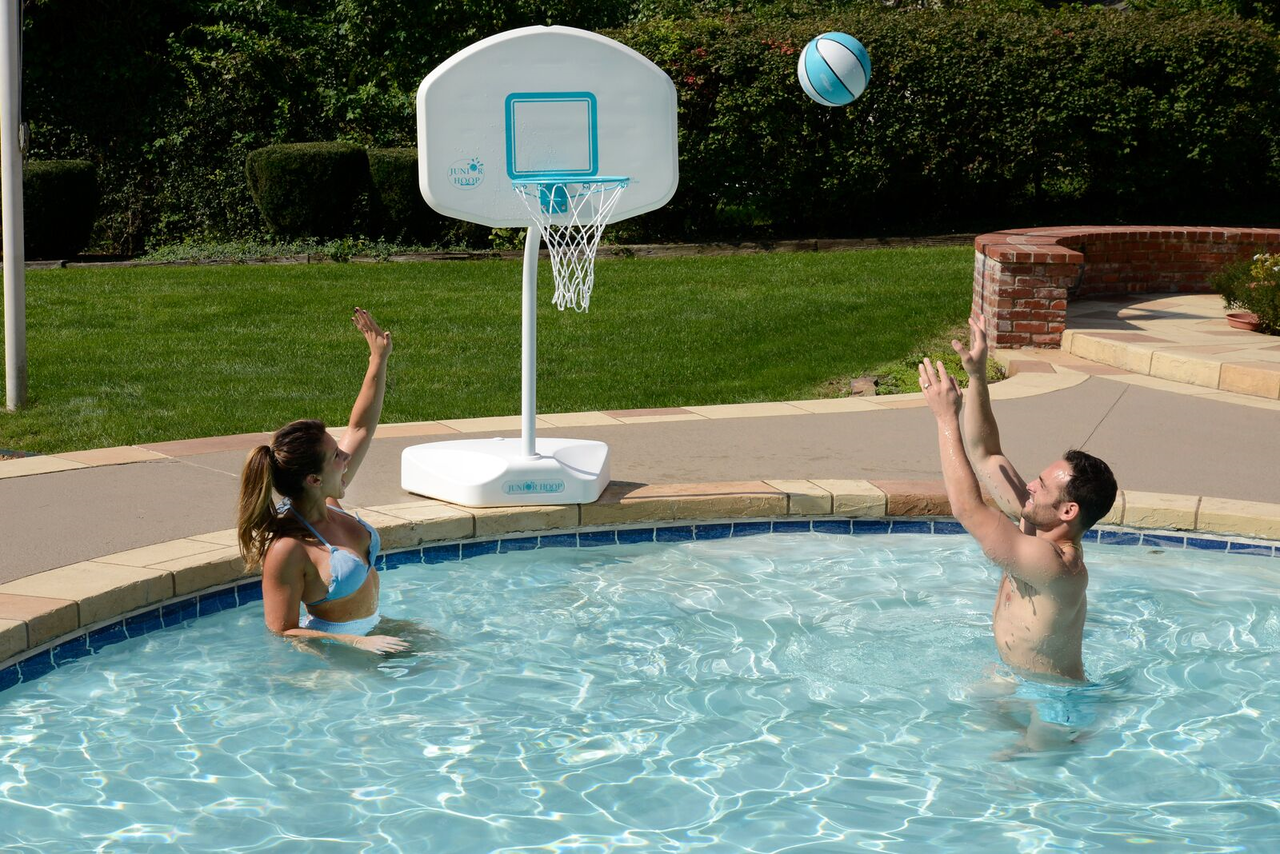 A Mounted Or Portable Basketball Set
A pool equipment retailer offers a wide range of basketball sets that can be mounted or moved around the perimeter of a pool. Decide if you would like to make a basketball set a permanent addition and research each model size that is available for purchase. Some basketball hoops are designed to be adjusted, which would be a benefit if you have young children who are going to have difficulty reaching the hoop right now.
With this type of feature, you can adjust the hoop to the lowest setting so that your children can comfortably reach the rim when they are practicing. As time passes and your children excel at basketball, raise the hoop a little. A basketball set includes an acrylic or polycarbonate backboard, a regulation size net, a bright-colored basketball, hardware, a base, and an instruction manual.
A basketball set that is moveable requires water to stabilize the base piece. Assemble the other components before using a water hose to fill the base. The pole that attaches to the hoop is designed to extend outward. This will prevent injuries, since you and your family members won't need to move close to the side of the pool in order to aim.
Because a basketball hoop is regulation size, you and the others can play with precision and this can be useful if you or any of your family members play basketball on a standard court and would like to perfect aims and throws.
An Adjustable Volleyball Net
A standard volleyball set includes a net, stainless-steel hardware, clamps, mounting poles, anchors, and a regulation size ball. Some sets do not contain anchors and should only be purchased if you already have a way to stabilize the net. Two people are needed to install a net. One person can stand on each side of the pool and secure one of the poles to an anchor.
After unrolling the volleyball net, one side of the net should be secured to each pole. Each anchor contains a reservoir that must be filled with water. The water will prevent the anchors from moving. The clamps that were enclosed with your purchase should be used to adjust the height of the net. After choosing the desired height of the net, use one clamp to secure each side of the net.
For the first volleyball match, secure the net so that it hangs low and close to the pool's waterline. As you and your family grow accustomed to competing in matches, raise the net slightly so that each game is more challenging.
A Combination Kit That Includes Both Games
A combination kit contains everything that is needed to play basketball and volleyball. Purchase a kit if you would like to provide yourself and your family members with the opportunity to play both games during recreational sessions in the pool. After you receive your order, familiarize yourself with the equipment and the hardware that is needed to assemble the pieces of each game.
Read the assembly instructions and locate each piece that is described in the installations steps. By learning how to set up each game, you won't need to waste a lot of time when you are ready to set up the equipment so that you can compete in some family-friendly competitions. Each game should be used separately. This will provide everyone with ample room to move around in the pool.
During times that your pool is not going to be used, the recreational equipment should be stored in a clean, dry area. Before placing the items in storage, drain the water that was added to each base. Use a screwdriver or power drill to remove hardware pieces. Use a towel to wipe off the materials. Place the equipment inside of a waterproof container and set the container inside of your garage or storage shed.