Pool Day Checklist
Posted by Dunn Rite on May 28th 2019
Summer days often mean a trip to the pool—maybe the one in your backyard, the neighborhood pool, or a friend's. No matter where you're heading, it's important to check your pool day list, and check it twice, because few things are as frustrating as heading off to the pool only to find that a few of your essentials didn't make the trip with you. From packing water to getting pool basketball, we have you covered for your next pool day!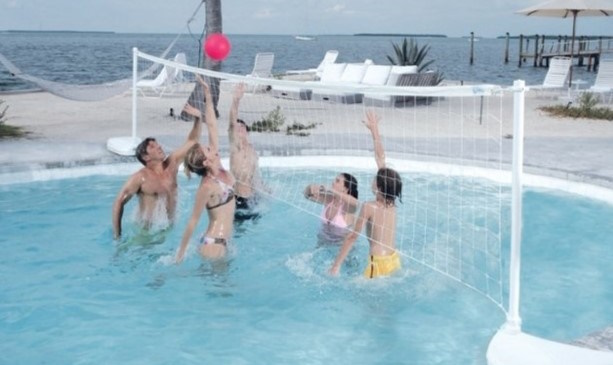 Pool Day Checklist
Here are just a few things you will need to make your day at the pool a great one:
Beach Bags
Make sure you have a large, sturdy, waterproof bag to hold all your supplies. You don't want to use plastic bags for your wet items, a large waterproof beach bag is the way to go. Plus, a large bag with plenty of pockets will give you room for everything your family wants to bring along.
Beach Towels
Remember to bring your beach towels! And bring extras to line your beach bag with. If you put them at the bottom of your bag, they'll absorb any water that might leak on the way home, or on the way there.
Water
Make sure to have lots of drinking water on hand. Whether you're heading to someone else's pool or your backyard pool, having plenty of water on hand is important. Have a cooler full of water to keep the kids from running in and out of the house to retrieve water—and if you're at the neighborhood pool, having your own water will keep you from spending money at the snack bar.
Food
Have healthy snacks on hand for hunger pains. Bring chips, crackers, carrots, as well as sandwiches if you'll be gone all day. And don't forget paper towels or napkins.
Sunscreen
Sunscreen is the most important thing on your list. Choose a broad spectrum sunscreen that will block both UVA and UVB rays. Remember, you will need to reapply if you get wet or sweat. Even if you don't get wet, you should still reapply every few hours.
Don't squint all day! Sunglasses will save your eyesight and keep you from developing wrinkles. Find a pair of sunglasses that, like the sunscreen, block both UVA and UVB rays.
First Aid Kit
Pack a first aid kit in case of scrapes. Make sure to pack band-aids and antiseptic.
Extra Clothes
If you are heading to someone else's pool, bring a change of clothes in case the ones your family are wearing get wet. This will make the ride home a lot more comfortable.
Umbrella and Chairs
Bring along a portable umbrella to give you some extra sun protection. Plus, a couple of comfy chairs will help if you aren't sure there will be enough chairs to go around at the neighborhood pool.
Pool Accessories
You can't have a successful pool day without some excitement. Consider getting pool basketball or pool volleyball, so that you and your friends can heat things up with a little competition. It's fun for every age and it definitely will ensure your pool day is a blast! Other accessories could include: foam noodles, inflatables, etc.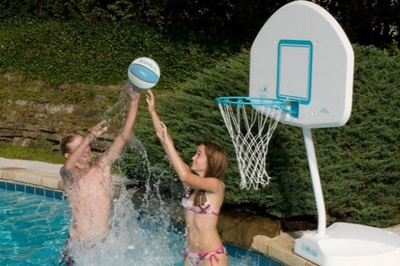 Pool Shoe
Remember to pack pool shoes—shoes that can either get wet or some flip-flops that slip on and off easily. No one wants to have to slip on socks and lace-up shoes at the end of the day, especially when feet are wet. Check this list and check it twice before you head off to the pool this summer to make sure you have everything you need for a stress-free day!
Dunn-Rite Pool Products & Pool Accessories
3rd Generation Family Owned Company with a long history of developing innovative products of the highest quality.
Pool Fountains - Combo Units - Pool Volleyball - Pool Basketball