Posted by Dunn-Rite Products on Mar 10th 2019
There are so many great reasons to love summer. The weather is great, school is out, and most people do not mind getting outside and enjoying it. The only draw back to most summer activities is that it can get so hot you are just miserable and want to head back inside where the AC will protect you from the heat or take a dunk in the pool. If you hate choosing between fun sports activities and staying cool, then pool sports such as basketball is the solution.
What is Pool Basketball?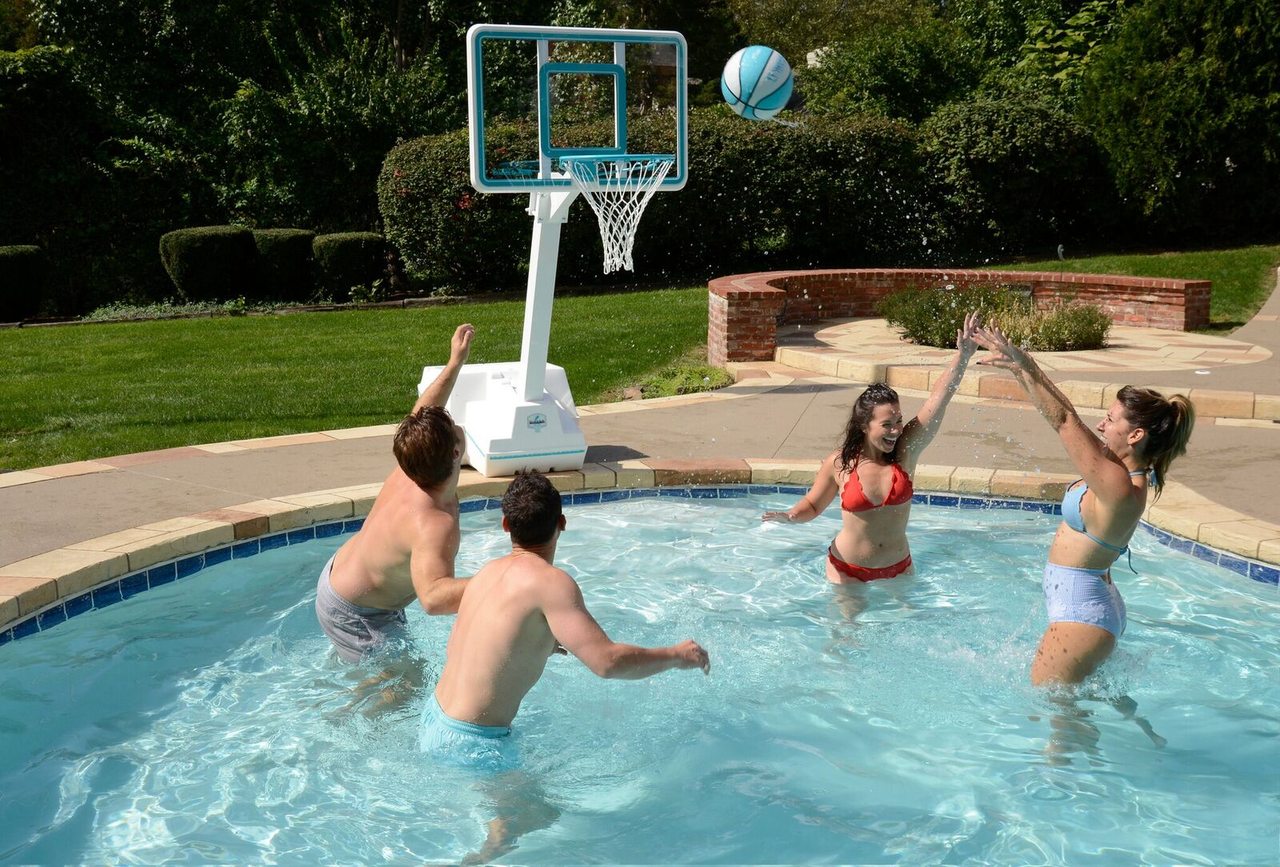 Pool basketball is literally the best of both worlds for summer fun. With a quality pool basketball hoop, your backyard pool can become a fun family battle ground for endless days of summer fun. The pool basketball hoops from Dunn-Riteproducts are strong, durable and able to withstand even the most serious basketball showdowns.
Pool basketball hoops come in a few different varieties. Floating Aqua Hoops are simple pool toys which you can easily add to your pool. These toys allow players to move around the pool with the hoop and make shots from anywhere. This is great for low key playtime, especially for smaller kids.
If you want to take your pool basketball to a more serious level, there are heavy duty hoops which can be placed at the deep end of your pool. These can come in both mounted or unmounted styles. Mounted styles offer the best in durability, while unmounted allow the flexibility of moving the hoop when you wish.
How to Play Pool Basketball
Obviously, you can have a ton of fun just shooting hoops and making up your own rules as you go, but if you are interested in hosting some serious games with a bigger group, there are official rules to pool basketball, in fact this sport has been added to many collegiate line ups at colleges across America. The following water basketball rules were taken from the student recreation information of the University of Arkansas.
There should be 5 players per team, with only 4 in the water. This is a great number for most neighborhood games, or even large family get togethers.
Players are required, in official pool basketball, to remain inside an inner tube flotation device at all times. If you don't want to follow the official rules, obviously you don't have to, but the flotation devices make the game a bit more challenging, not to mention it really intensifies the work out you are getting.
Each team is only allowed 3 fouls. If your team exceeds the fouls, then the other team begins accumulating points for each foul. The rules of play are very similar to that of court basketball except that free throws and 3-point shots are not allowed.
Out of bounds is considered the edge of the pool. If the ball goes beyond the edge of the pool it will be considered out of bounds.
There are violations in pool basketball just as there are in court ball, however the violations are quite different. Players are not allowed to exit their inner tubes. Any action which takes place outside of the inner tube is obsolete. Players are not allowed to push off the sides of the pool to give themselves momentum or advantage. The ball cannot be submerged in an effort to keep it away from another player. Players cannot jostle other players by grabbing their inner tube. Players may not push, shove or hold anyone under water. Any of these actions result in a personal foul.
Water basketball is just one of the many fun pool sports you can incorporate into your family's pool time this summer. Having a pool is great but having a pool that doubles as a family rec center, is even better. Dunn-Rite Pool Products has everything you need to turn your pool into the go to spot for family fun and exercise.