Make Your Summer a Slam Dunk with Pool Basketball
Posted by Dunn Rite Products on Jun 4th 2018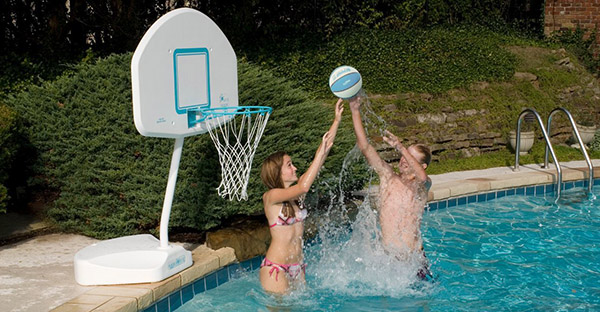 Nothing says summer fun like a sport that combines the cool, refreshing environment of a crystal-clear pool with the high-energy game play of basketball. Plus, pool basketball is a great way to entertain a group of friends for a summer afternoon when everyone's tired of being cooped up indoors.
The chill of the pool water coupled with invigorating exercise is the perfect antidote for those summer doldrums. Perfect for large groups or even just a handful of friends, pool basketball is your answer to summer entertainment.
Never heard of pool basketball?
That's okay — here's a quick primer to get you up to speed.
What is Pool Basketball?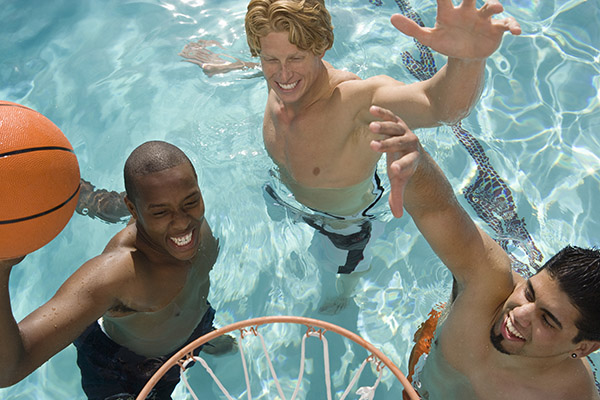 Pool basketball, also called water basketball, combines the fast-paced action of water polo with the finesse of basketball into a game you can play in your own backyard swimming pool.
It was created in 1986 by an Italian, Francesco Rizzuto, who developed the format for the basic game.
Currently, there are a lot of variations of the game, but the basic premise is simple. Once they have possession of the ball, teams consisting of five players each have a certain amount of time to make a shot at the goal.
But it's your pool, and you can play any version of basketball you like. Shooting hoops solo? Sure. Two-on-two? Awesome. A rousing game of H-O-R-S-E? Absolutely! From teams of two to however-many-are-there, pool basketball can be played any way that makes you happy.
A pool basketball set at your home pool will make staying active this summer simple, easy, and fun.
Pool Basketball Around the World
In fact, it's so much fun that many countries have teams play regularly and even compete on a national level. There are so many teams across the globe that it's hard to catalogue them all, so we'll highlight just a few.
Water Basketball Down Under
Tasmania has had their own Water Basketball league since 2003 when the season was kicked off with a demonstration game between two teams that were made of players drafted from the Hobart Chargers, Tassie Devils football, Hobart Hurricanes, and team members from the cricket team the Tassie Tigers.
The community loved it so much that the local Hobart Aquatic Centre developed a recreational form of the game that involves two six-player teams (with three female players each) that work to pass the ball from the end of the pool to the goal.
Italian "Water Basket"
There have to be Italian pool basketball teams, given the fact that the originator of the sport is an Italian national — but they didn't get serious until 1994.
Then, it still took more than ten years for the excitement to build. But in 2003, the first "Water Basket" tournament was played in Florence between national teams from Hungary and Italy.
The home team, Italy, was triumphant, in part due to the large number of skilled water polo players on the team.
The Italian Federation of Basketball went on to officially recognize the water sport as a form of basketball in 2005.
Slavic Innovation
In nearby Slovenia, the game was tweaked to make it more convenient. Originally, there were two popular forms of the game played locally.
In the first, there was a fixed basket at the pool's edge. Some players found the basket height too high for finesse moves from the water and others ended up kicking the pool wall during a shot, causing injury.
The second game format used a floating basket, which many players felt made accurate shots more difficult.
To solve these problems, two players from Kranj, Slovenia — Tomaž Slavec and Matjaž Kodek — invented a basket that consisted of a long pillar sunk in the water. The pole then had a basket hanging about three feet above water level.
This unique water-mounted hoop permitted players to play from all angles around the basket, allowing the game to become more dynamic.
Dutch Waterbasketbal — A Game for Everyone
Another form of water basketball has been played in the Netherlands for many decades. Developed to provide fun and exercise for people with handicaps, this Netherlands version of the sport includes a series of tournaments, a national championship, and an official Dutch Waterbasketbal Championship to honor the best of the best.
Water Basketball in the USA
No line-up of water basketball teams would be complete without our homegrown crews. Water basketball has been a staple sport in backyard pools around the country for decades, but it's also found its way into community recreation centers and college campuses.
In fact, one recent video featured the University of Louisville baseball team showing off their water basketball skills at their annual Labor Day Dunk. The video, which went viral, showcased eleven players making an ultra-elaborate, choreographed goal shot in a pool.
The ball traveled from a trampoline, to players in the pool, to a perfectly-timed catch on a slide, to more players, back to the trampoline, and finally in the basket. Just watching the clip will make you want to suit up and dive into the fun.
Ready to Add the Fun of Pool Basketball to Your Pool?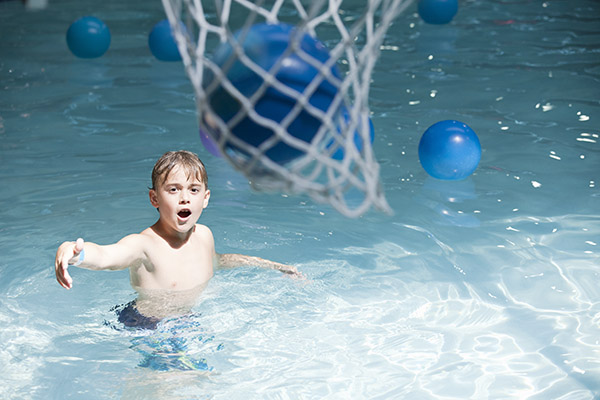 It's obvious that pool basketball makes having summer fun so much easier. Easy to learn and fun to play, water basketball is the perfect sport for the whole family.
To get started, all you need is a few simple pieces of equipment.
But don't be fooled by all the choices. Pool basketball equipment is subjected to extremes of seasonal heat and chemicals or salt from your pool, so you'll need to choose wisely. You'll want to consider only equipment made with high quality components that will give you many years of playing pleasure.
In this case, it's better to buy a quality pool basketball set once than purchase a cheap set that only lasts a season. Let's take a look at what goes into a pool basketball set.
Shopping for a Quality Pool Basketball Set

There are only two components to a game set — a basketball hoop and ball.
Seems simple enough, right?
But this is where it pays to understand the construction and nature of these kits to ensure you're not throwing your money away on substandard equipment that will break down in a season.
Let's look at your options.
Pool Basketball Hoop Options
There are two types of hoops — those on the pool deck and those that float in the water. It's up to you which suits your way of gaming better.
FLOATING HOOP
Those with small children might prefer the floating hoop that kids can swim up to, but at the same time, a floating hoop can also add excitement to a game played with active teens as it bobs and moves in the pool.
It does not have a backboard, so it removes the problem of rough-housing such as rim-hanging from your summer pool scene. If you choose this kind of hoop, be sure that the netting is heavy-duty polyester that will stand up to the salt and chlorine in your pool water.
Some nets are made of flimsy plastic that will degrade from sunlight and chemicals in just one season. Some floating pool basketball hoops are made of cheap metal.
Don't waste your money on these. They'll rust and deteriorate quickly, and can be a potential safety hazard.
Choose at least a 3P PVC construction to give you a tough, durable hoop that can take some bouncing off rough pool walls without scratching or wearing. Thicker PVC will also give the hoop additional resistance against deterioration by UV rays, and hold up to seasons of fun and play.
DECK-MOUNTED HOOP
A hoop that's meant for your pool deck can be freestanding or mounted in a hole in your deck, called a ground sleeve. A freestanding hoop is one with a weighted base filled with water or sand to anchor it to the deck surface. Some higher-end models have a four-way leveling system that allows placement even on sloped or uneven deck surfaces.
Many models have an adjustable pole to accommodate players of any age and skill, but even if the poles aren't adjustable, higher-quality builds will normally feature an inward-slanting pole to extend the hoop over the water for ease of play.
If you'd like a pole mounted to a cupped indentation in your pool decking, look for the height you want, as these poles are normally not adjustable.
The size of the post is variable as well, so measure the diameter of your pool deck sleeve to ensure you purchase the correct size post. They normally come in 1.90" and 2 3/8" sizes. You'll also want to ensure the pole features stainless steel construction so it can stand up to severe salt-and-chlorine environments.
For saltwater environment, vinyl-coated or powder-coated stainless is best for additional rust-resistance. The rims on the hoop are important as well, and should be stainless steel or vinyl-coated stainless steel for the ultimate in weather protection and structural soundness.
Look for hoop systems that offer brass anchors with a cap to protect the ground sleeve of your pool from standing water when the pole is not in use. This will leave your pool deck more attractive in the off-season and keep mosquitoes and other insects from making your pool into a habitat.
Hanging on the Rim — What You Need to Know
Kids and adults alike love showboating their basketball skills by hanging on the rim of the basketball hoop. If you think you've got one — or more — people among your pool pals that might be a rim-hanger, it pays to get a backboard (and rim) that can handle this kind of abuse.
You'll want a reinforced poly backboard for maximum strength under pressure and a stainless-steel rim for weather- and environment-proofing.
Your backboard needs to be strong to withstand repetitive hits as well as weather and rust. For safety's sake, the entire pool basketball unit should be the highest quality possible.
A person's body weight, especially when involved in a fast, up-and-down motion as in a basketball dunk, can put a lot of pressure on flimsy rims and lightweight hoop systems. If your pool basketball set is going to see some heavy action, it's worth the money to get the very strongest and most durable backboard and rim combination.
How to Ensure You Get a High-Quality Pool Basketball Set
The best way to guarantee you'll get a pool basketball set that's attractive, durable, and a great value is to purchase from a company that knows the sport and knows how to make quality, long-lasting equipment.
Dunn Rite Pool Products has been around since 1988. A family-owned business, Dunn Rite has a reputation for innovation and high quality.
In fact, they were the first company to design and market a commercial-grade water basketball hoop product. Their family of water basketball products not only features the highest-quality materials for long-lasting durability, but also a range of products that can suit any budget — without sacrificing quality.
Best of all, they supply individual parts for everything they sell, so if you lose an anchor or leave your basketball at a friend's house, a replacement is just a click away. They warranty their products and their returns policy is very generous — it's obvious that customer care is at the top of their list.
In addition, they offer online instruction manuals for all their products. If you lose your manual between seasons, it's easy to find the information you need right at your fingertips.
Don't trust your summer fun to just anyone. If you want a pool basketball set-up that's done right, then Dunn Rite is your only option.
Dunn-Rite Pool Products & Pool Accessories
3rd Generation Family Owned Company with a long history of developing innovative products of the highest quality.
Pool Fountains - Combo Units - Pool Volleyball - Pool Basketball