How to Throw the Best Summer Pool Party of 2023
Posted by Dunn Rite on Jun 2nd 2023
This summer seems to be the hottest yet and what better way to cool off with the best pool party of 2023! Invite your friends and family to a monumental party, including everything you could possibly want all in one place. From planning the theme to refreshing beverages, we've covered it all.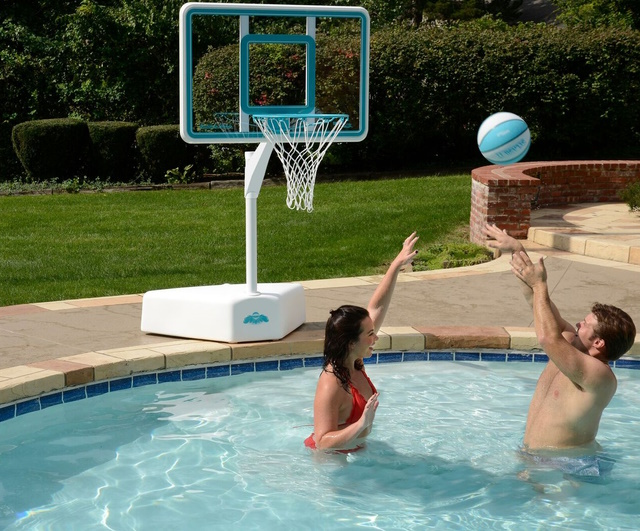 How to Throw the Best Summer Pool Party of 2023
In this blog post, brought to you by Dunn Rite Products, we'll provide you with essential tips and ideas to throw the best summer pool party that will have everyone diving into a world of enjoyment. Let's get the party started!
Send Creative Invitations
Set the tone for your pool party with creative and enticing invitations. Consider designing tropical-themed invites with colorful imagery and playful wording. Include essential details like the date, time, location, and any special instructions or themes for the party. You can also use online platforms to send digital invitations that allow guests to RSVP conveniently.
Read our blog on Pool Party Invitation Ideas.
Plan a Theme
Inject some excitement into your pool party by choosing a theme that resonates with your guests. Tropical luau, beach party, or Hawaiian-inspired themes are always popular choices. Encourage guests to dress accordingly and decorate the pool area with vibrant decorations, such as inflatable palm trees, beach balls, and tiki torches. A well-executed theme adds an extra element of fun and sets the stage for an unforgettable event.
Provide Pool Seating
Ensure your guests can relax and enjoy the party by providing ample poolside seating and shade. Set up comfortable lounge chairs, umbrellas, and beach towels for lounging and sunbathing. Consider investing in inflatable pool floats and rafts for added enjoyment and relaxation in the water. Try Pool Stools from Dunn-Rite for the perfect in-pool and out of pool seating option!
Read our blog on Pool Lounge Ideas for 2023.
Create a Refreshing Beverage Station
Keep your guests hydrated and refreshed with a dedicated beverage station. Fill coolers or ice buckets with a variety of chilled beverages, including water, sodas, juices, and flavored iced teas. Offer a selection of fresh fruits for guests to garnish their drinks, and don't forget to include some fun, colorful straws and umbrellas for added flair.
Read our blog on the Best Poolside Drinks of 2023
Serve Delicious Poolside Snacks
Pool parties call for tasty and convenient snacks that guests can enjoy without leaving the water. Consider serving finger foods like fresh fruit skewers, mini sandwiches, sliders, and vegetable platters with dip. Light and refreshing snacks like popsicles, ice cream, and frozen fruit skewers are perfect for beating the heat.
Read our blog on the Best Poolside Appetizers of 2023.
Set Up Pool Games and Activities
Keep the energy levels high by providing a variety of pool games and activities for guests to enjoy. Dunn Rite Products offers a wide range of pool basketball and pool volleyball sets that are perfect for adding some friendly competition to your party. In addition to these classic games, consider including inflatable water slides, water balloons, and relay races to keep everyone entertained.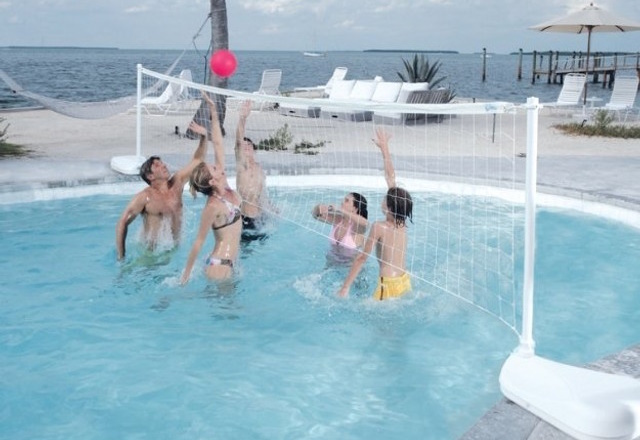 Create a Party Playlist
No pool party is complete without music! Create a playlist filled with upbeat and summery tunes that will keep the atmosphere lively and enhance the overall party experience. Include a mix of popular hits, old favorites, and songs that will get everyone up and dancing. Bluetooth speakers or waterproof speakers near the pool area will ensure the music reaches every corner.
Read our blog on the Ultimate Pool Party Mix of 2023.
Safety is Important During a Summer Pool Party
While fun and enjoyment are the main focus, safety should always be a priority during a pool party. Take the necessary precautions to ensure a safe environment for all guests:
Assign a designated adult or lifeguard to actively supervise the pool area.
Clearly mark the shallow and deep ends of the pool.
Ensure all guests are aware of the pool rules and guidelines.
Provide life jackets or floatation devices for those who need them, especially for non-swimmers and children.
Keep a fully stocked first aid kit accessible.
By following these essential tips, you can throw a summer pool party that will be the talk of the town. Remember to consider the preferences and needs of your guests, focus on safety, and infuse the party with a fun and relaxing atmosphere. Dunn Rite Products offers a wide range of pool accessories and games to enhance the enjoyment of your pool party. So, grab your sunscreen, inflate the pool floats, and dive into a summer pool party that will create lasting memories for everyone involved.
Dunn-Rite Pool Products & Pool Accessories
3rd Generation Family Owned Company with a long history of developing innovative products of the highest quality.
Pool Fountains - Combo Units - Pool Volleyball - Pool Basketball