How to Setup a Pool Volleyball Net
Posted by Dunn Rite on May 23rd 2023
Pool volleyball is a fun and refreshing way to cool off on a hot day. It's also a great way to get some exercise and have some fun with friends and family. If you're looking to set up a pool volleyball net there are a few things you'll need to do.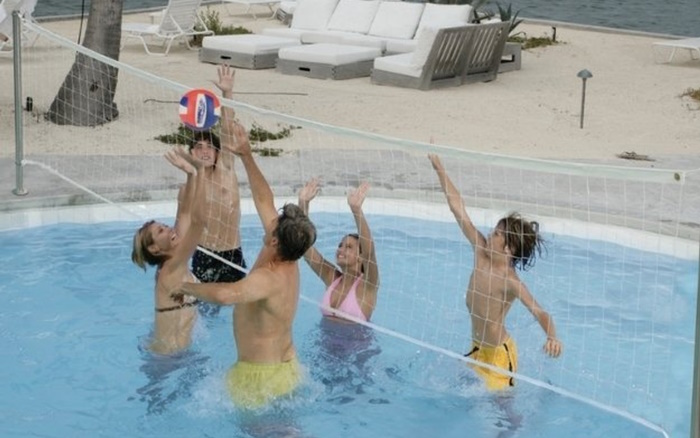 Basic Setup for a Pool Volleyball Net
Here are the basic items you'll need in order to begin the process of setting up your pool volleyball unit. They include:
A pool volleyball net
Two poles
Stakes
A mallet
A measuring tape
Step-By-Step Guide to Setup Pool Volleyball
We've put together an easy-to-follow guide on how to setup your new pool volleyball net. Continue reading to ensure the process goes smoothly.
Choose a Location
The first step is to choose a location for your pool volleyball net. You'll want to choose a spot that is level and has enough space for people to play. You'll also want to make sure that the net is in a spot where it won't be in the way of swimmers or other activities.
Set Up the Poles
Once you've chosen a location, it's time to set up the poles. The poles should be placed about 10 feet apart, with the net centered between them. The poles should be secured in the ground with stakes.
Attach the Net
The net should be attached to the poles using the provided hardware. The net should be taut, but not so tight that it's difficult to play.
Adjust the Height of the Net
The height of the net should be adjusted to the appropriate height for the players. The net should be 7 feet high for women and 8 feet high for men.
Play Pool Volleyball
Once the net is set up, it's time to play ball! Pool volleyball is played just like regular volleyball, except that it's played in the water. The object of the game is to hit the ball over the net so that it lands on the other side. The other team must then return the ball before it hits the ground. The first team to score 15 points wins the game.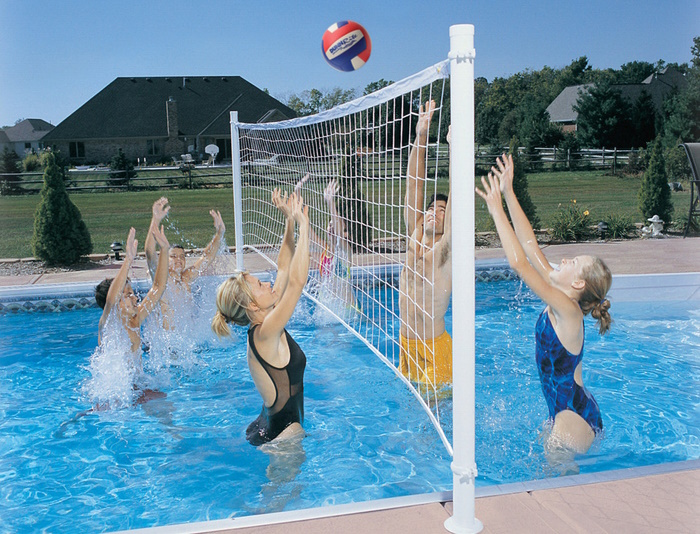 Here are a few tips for playing pool volleyball:
Use a water volleyball ball. These balls are designed to float in water, so they're easier to hit and catch.
Be aware of your surroundings. Make sure you don't hit the ball into the pool or at other swimmers.
Have fun! Pool volleyball is a great way to cool off on a hot day and have some fun with friends and family.
Interested in pool volleyball court size regulations? Check out this blog here.
Dunn-Rite Pool Products & Pool Accessories
3rd Generation Family Owned Company with a long history of developing innovative products of the highest quality.
Pool Fountains - Combo Units - Pool Volleyball - Pool Basketball