Fall Get-Togethers: Hosting a Poolside Fall BBQ
Posted by Dunn Rite on Aug 29th 2023
The arrival of fall brings about a unique and inviting atmosphere, perfect for outdoor gatherings that capture the essence of the season. As the days become cooler and the leaves start to change, hosting a poolside fall BBQ becomes an excellent way to savor the beauty of autumn while enjoying good company and delicious food. With the addition of Dunn-Rite Products to your poolside setup, you can create a memorable and cozy experience for your guests.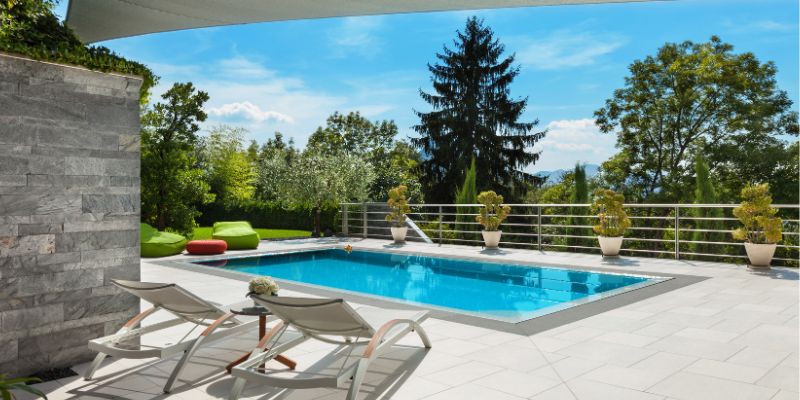 How to Host a Poolside BBQ in the Fall
Here's how to host a poolside fall BBQ that combines the pleasures of outdoor cooking, relaxation, and Dunn-Rite products.
Setting the Scene
Start by transforming your pool area into a welcoming fall haven. Decorate with pumpkins, autumnal wreaths, and cozy blankets to set the scene for a fall-inspired gathering. Create designated seating areas using Dunn-Rite pool stools and other comfortable seating options, ensuring your guests can relax and enjoy the atmosphere.
Grilling Delights
The heart of any BBQ is the grill, and fall provides the perfect backdrop for outdoor cooking. Fire up the grill and prepare a delicious menu featuring fall favorites like grilled vegetables, hearty burgers, sausages, and skewers. The aroma of sizzling food will add to the overall festive ambiance.
Fall-Inspired Cocktails
Offer your guests a selection of fall-inspired cocktails and mocktails. Serve spiced apple cider, cranberry mimosas, or pumpkin-infused beverages. Consider setting up a designated drink station featuring a variety of options to suit different tastes.
Poolside Games and Activities
Entertain your guests with poolside games and activities that embrace the fall spirit. Set up a pool volleyball net or pool basketball hoop such as one of Dunn-Rite's premium products. Encourage friendly competition and laughter as your guests enjoy the refreshing water and the thrill of the game.
Ambient Lighting
As the sun sets earlier in the fall, ambient lighting becomes crucial for maintaining a warm and inviting atmosphere. String up fairy lights, lanterns, and candles around the pool area to create a cozy glow that enhances the fall charm.
Bonfire Bliss
A bonfire adds a touch of magic to any fall gathering. Set up a bonfire area near the pool and provide comfortable seating options, such as Dunn-Rite pool stools, for guests to gather around. Roast marshmallows, tell stories, and enjoy the crackling flames as the evening unfolds.
Fall-Inspired Menu
Craft a menu that celebrates the flavors of fall. Offer appetizers like pumpkin hummus and butternut squash soup, followed by hearty main courses and decadent desserts. Embrace seasonal ingredients to create a culinary experience that delights the taste buds.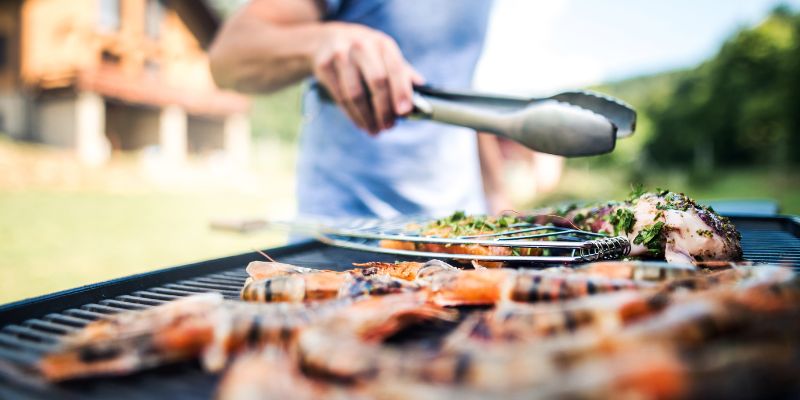 Comfortable Lounging
Create cozy lounging areas where guests can relax and enjoy their meals. Arrange seating with plush cushions and blankets, making use of Dunn-Rite pool stools and other comfortable options. Encourage your guests to unwind and savor the fall ambiance.
Music and Entertainment
Set the tone with a carefully curated playlist that complements the fall atmosphere. Play acoustic tunes, soothing melodies, or upbeat tracks that add to the overall enjoyment of the event. Consider incorporating live music for a special touch.
Takeaway Treats
As a thoughtful gesture, provide your guests with fall-inspired takeaway treats. Offer small packages of apple cider donuts, pumpkin spice cookies, or caramel apples as they bid farewell, ensuring they leave with a taste of the delightful evening.
Host a Poolside Fall BBQ with Dunn-Rite Products
By hosting a poolside fall BBQ with Dunn-Rite Products, you can create a memorable and festive experience for your guests. The combination of delicious food, cozy seating, entertaining games, and fall decor sets the stage for an unforgettable gathering. Embrace the charm of autumn and celebrate the joys of the season as you enjoy the company of friends and loved ones by the poolside.
Dunn-Rite Pool Products & Pool Accessories
3rd Generation Family Owned Company with a long history of developing innovative products of the highest quality.
Pool Fountains - Combo Units - Pool Volleyball - Pool Basketball