2020 Holiday Gift Guide
Posted by Dunn Rite on Dec 10th 2020
The holiday season, while looking unlike any other, is upon us and now we are all trying to figure out the perfect gift for the loved ones on our lists. Whether you or your loved one has a swimming pool, love to care for houseplants or they enjoy the lake life, we have a gift option for everyone.
RC Boats/Skimmers
Make cleaning your pool fun and and easy with our RC boats/skimmers. Even the kids will want to help clean using our RC boats/skimmers. Reach those hard to get areas and clean your pool in minutes just by using the remote control to move the RC boats/skimmers around your pool. Once you finish simply lift the skimmer net from the boat to clean and reinstall for more cleaning. Our RC boats/skimmers come with everything you need to get started including a rechargeable battery and charger. Our RC boats/pool skimmers also come with a 1 year warranty so you can by with confidence from Dunn Rite.
Pool Volleyball
Turn your swimming pool in to an athletic adventure with a pool volleyball set and start having more fun in your pool. The first decision will be whether you want a portable pool volleyball set or a deck mounted pool volleyball set. In either choice we carry both regulation size pool volleyball sets as well as residential sized pool volleyball sets. Check out our pool volleyball sets and start having more fun in your pool today!
Pool Basketball
Turn your pool in to a sports court with our swimming pool basketball hoops. We carry a few varieties allowing you to find the right basketball hoop for your pool set up. Look at our floating pool basketball hoops for an in the pool option that you can take from the pool to the lake with ease. Next we have several water filled base basketball hoops that can be moved around the edge of your swimming pool or stored away. Finally look at our deck mounted pool basketball hoops for a permanent location ready for your most aggressive game of pool basketball.
Combo Units
Why choose between basketball and volleyball when you can have both? With our combo units, you can double your swimming pool fun! Our combo units, come as either a portable combo unit or a deck mounted combo unit. If you choose the deck mounted combo unit, you play 1 sport at a time as it will share a mounting location. With our portable combo unit you can set up both and have something for everyone in the pool. Shop our combo units today and start having more swimming pool fun!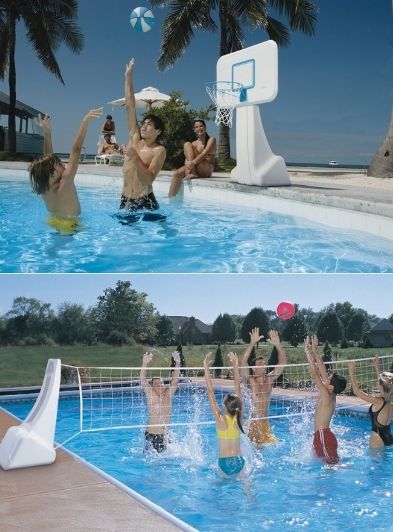 Self-Watering Planters
Our self watering planters are perfect for people who are on the go or maybe don't have the greenest thumb. These self-watering planters can be used indoors or anywhere where it won't be exposed to rainfall. Super easy to use/fill and the water will slowly water your plants for up to 2 months. The self-watering planters are a classic design and come in a variety of colors. Check out our self-watering planters today!
Dunn-Rite Pool Products and Inflatable Paddle Boards
3rd Generation Family Owned Company with a long history of developing innovative products of the highest quality.
Inflatable Paddle Boards - Combo Units - Pool Volleyball - Pool Basketball